One of our most popular items
Practical IT Manager GOLD Series
$279.00

Save almost $200.00 when you purchase the GOLD Series Bundle. Includes my first ten ebooks (completely rewritten – all new and better than ever) plus a FREE BONUS of the IT Manager ToolKit containing over 100 customizable tools and templates for virtually every IT management situation. The ToolKit sells separately for $175.00.
The GOLD Series includes the following items: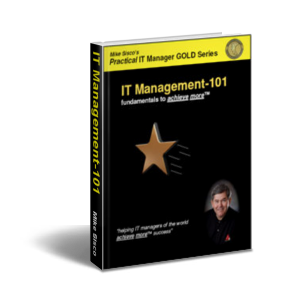 IT Management-101: fundamentals to achieve more™
Learn about the Triple Threat to IT Success, the three key things that cause IT failure. You will also learn about what makes an IT employee "tick" and why some of these traits are extremely helpful as a technology expert but create challenges for you as an IT manager. This book is a foundation every IT manager should have.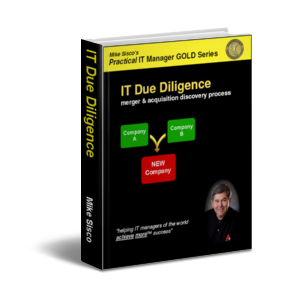 IT Due Diligence: merger and acquisition discovery process
The first key to IT success is being able to identify what your team needs to work on. Use the process and tools I developed while conducting over 40 company acquisitions to help you assess any IT support situation.
IT Strategy: align your IT vision for business value
The key to keeping IT aligned with your company is to develop a practical IT strategy for your company, review it with your senior management team, and gain their support. This book takes you step by step through the whole process.
IT Project Management: a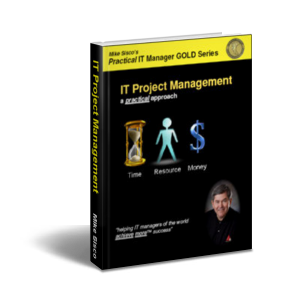 practical approach
The key to IT credibility is delivering projects successfully. Doing this is not as complex as you might think, , , I'll give you a simple yet effective process to use and tools that will help you make it happen consistently.
IT Asset Management: tracking
technology assets
Tracking your technology assets is important so you need a few tools and a simple process to manage this part of your business effectively. This helps you be more organized and will give you a head start in budgeting and other management requirements.
IT Organization: right-size your organization for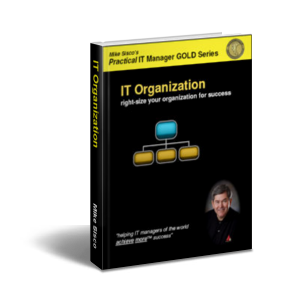 success
An IT manager needs an organization plan that builds the appropriate mix of skills, experience, capability and capacity to meet your company's technology support needs. Don't spend more than is needed, , , right-size your organization.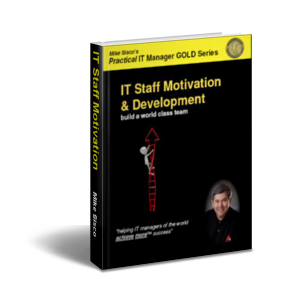 IT Staff Motivation and Development: build a world class team
Your competition wants your best people. Keep them with you when you motivate and develop them. This material will not only help you retain your key employees, , , it will also lead to a stronger and more capable team.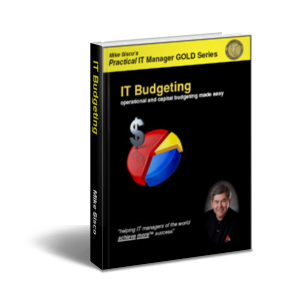 IT Budgeting: operational and capital budgeting made easy
Budgeting is not as difficult as many make it, , , all you need is a practical process and a few tools, , , plus insight from someone who has developed dozens of successful IT budgets. A few tips you will receive in this book will save you lots of time and frustration.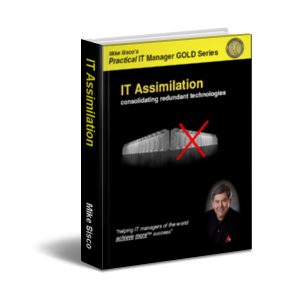 IT Assimilation: consolidating redundant technologies
After you conduct a IT assessment, you need a plan to transition your organization. In IT Assimilation I use my company acquisition experiences to provide you lots of tips and techniques to do this effectively.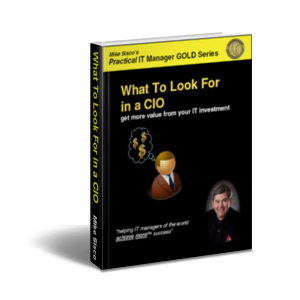 What To Look For in a CIO: get more value from your IT investment
This was my first book targeted to company executives because there is a lack of understanding IT and not knowing what they should expect from their IT organization, , , and CIO.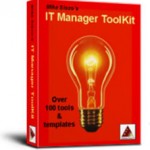 Plus the IT Manager ToolKit
Contains over 100 IT manager tools and templates you may use "as is" or customize for your specific needs.
Sells separately for $175.00.
CLICK HERE to download the complete list of tools.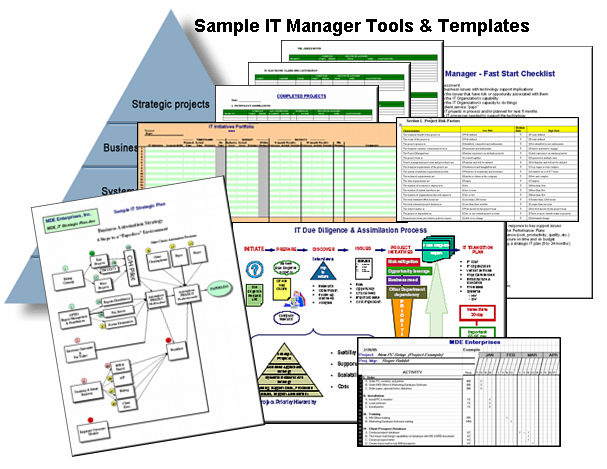 Save
Save