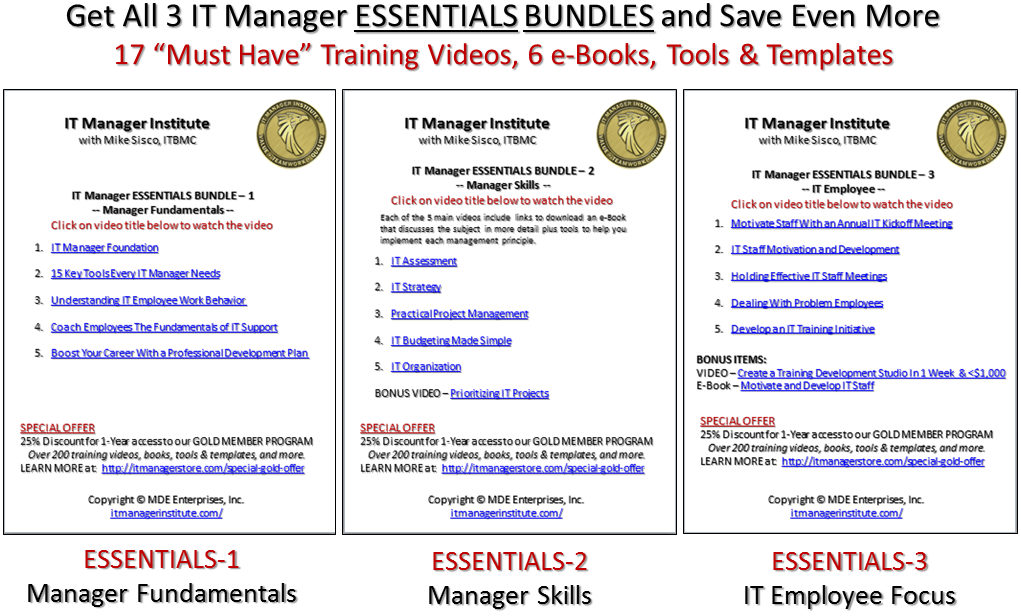 ————————————————–
You can also order each ESSENTIALS BUNDLE separately below
Each Bundle is heavily discounted
BEST BUY is the BIG BUNDLE that gives you a BIGGER DISCOUNT
————————————————–
IT Manager ESSENTIALS-1 Bundle
IT Manager Fundamentals

ESSENTIALS-1 is a must have Bundle of 5 videos every IT Manager needs. Includes insight and tools guaranteed to help you achieve more success. Three of the videos include download tools and templates to help you take advantage of the training.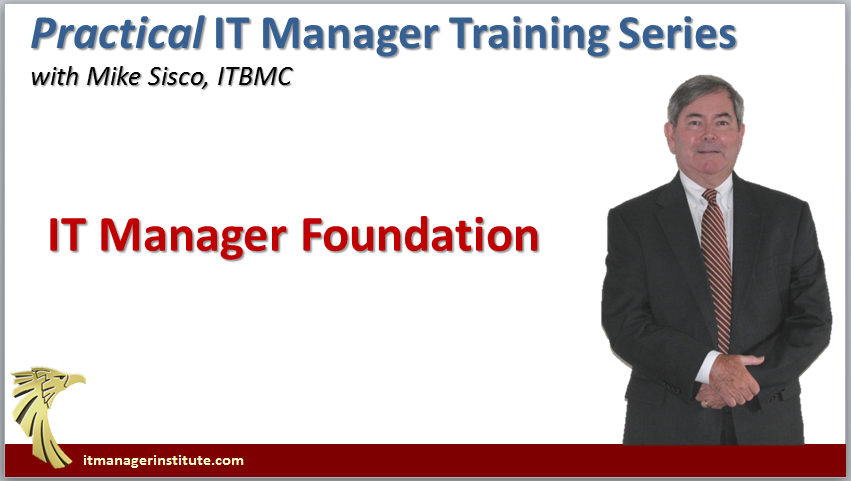 1.  IT Manager Foundation
Got to start with a solid foundation. This video is the first session in my popular IT Manager Institute & ITBMC Training program that I've taught all over the world. It will give you a solid foundation to build upon in your IT Manager role.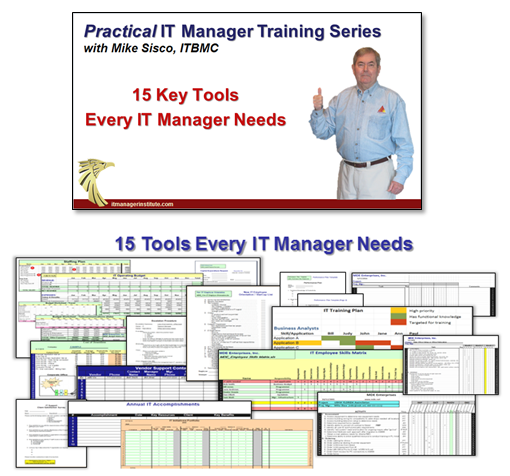 2.  15 Key Tools Every IT Manager Needs
Training on the TOP 15 tools and templates in my IT Manager ToolKit that I consider to be the most valuable and that are critical for IT Manager success.
Includes download templates you can use "as is" or customize for your specific needs. I developed these tools for my own use; they helped me succeed and can help you too.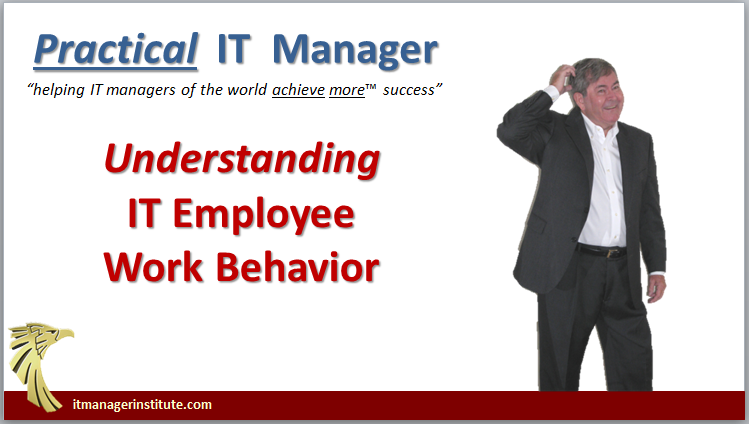 3.  Understanding IT Employee Work Behavior  There are many dynamics taking place with your employees that most IT Managers are not aware of. Understanding these work behavior tendencies are critical for IT Manager success. This training video explains it all and gives you the insight you need to help yourself and your employees succeed.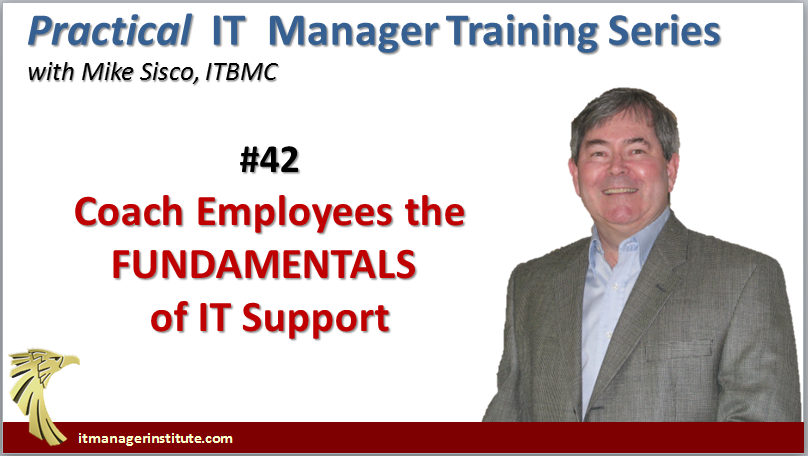 4.  Coach Employees the Fundamentals of IT Support – Great managers teach and coach the fundamentals, , , ask any successful sports team coach. IT support has some key fundamentals as well that you need to coach and reinforce within your team if you want to achieve any level of success.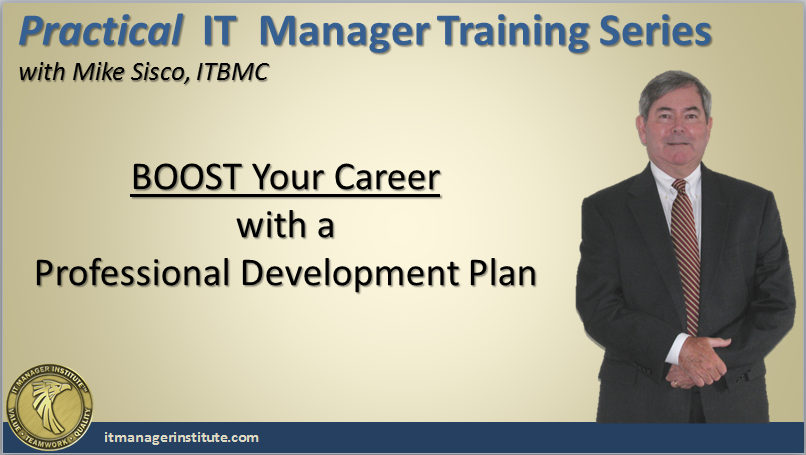 5.  Boost Your Career With a Professional Development Plan – Career progress happens only when we make it happen. Use this training video and the download tools included to take a proactive approach to enhancing your career. I consider this one of the best training videos in my series and it's all new as of 2019.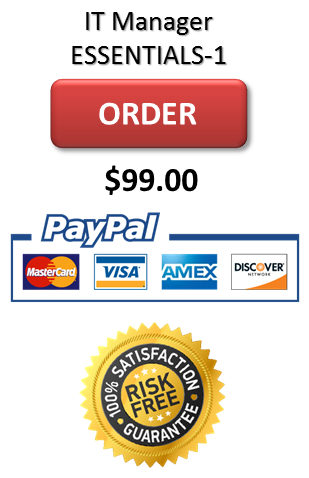 —————————————
IT Manager ESSENTIALS-2 Bundle
IT Manager Skills

ESSENTIALS-2 is a Bundle of 5 videos that focuses on key skills every IT Manager must have to achieve success. Each video includes a FREE DOWNLOAD of the e-book that discusses the topic in more detail plus tools and templates designed to help you implement the concepts discussed in each book. Use the tools "as is" or customize for your specific needs.These five skills are absolutely critical for IT manager success.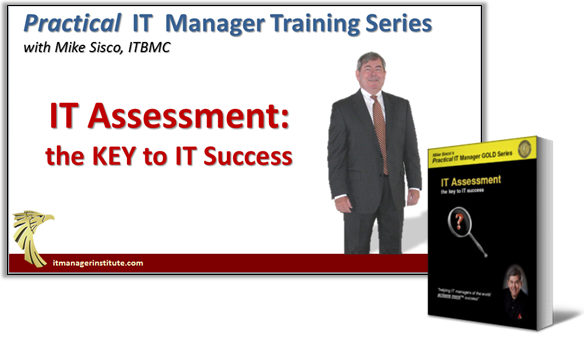 1.  IT Assessment – The first step in any manager role is to conduct an assessment to determine what you should work on. This class will walk you through step by step how to conduct a thorough IT assessment so you are laser focused on what your team needs to focus on to support the business.
2.  IT Strategy – Developing, communicating and executing an IT strategy is a critical part of managing an effective IT Support Organization. A big part of developing an IT strategy is prioritizing the work. I show you how to develop a strategy and give you an example of the IT Strategy I developed for the last company I worked for. In addition, I include key steps to help you deliver your IT Strategy to senior management so you get approved what you need to move forward.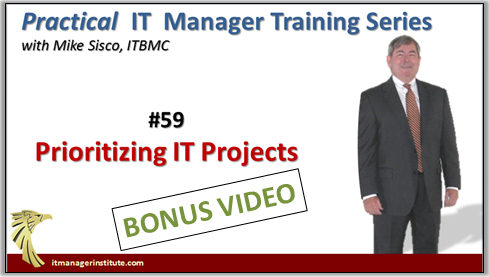 BONUS VIDEO – Prioritizing IT work can be difficult and challenging so I'm including a recent video developed titled, Prioritizing IT Projects. This BONUS training gives you insight and tools to help you prioritize projects effectively and can make a positive difference in your IT strategy efforts.
3.  Practical Project Management – The key to IT credibility is delivering projects successfully. This is one of the most important aspects of achieving IT manager success. This video package gives you a simple project management process plus key tools to help you manage projects better than ever before. It will literally set you apart from others and get you recognized as a manager who can do what he says he will do.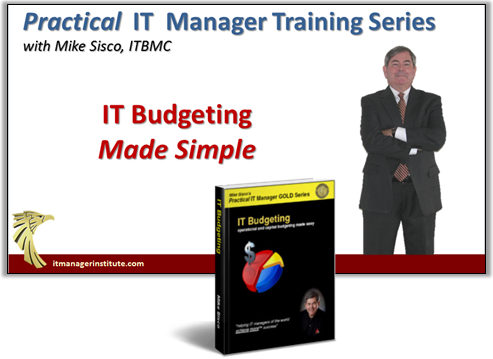 4.  IT Budgeting Made Simple – Budgeting does not need to be labor intensive and tedious. I'll give you a process and tips that makes budgeting simpler, easier, and faster to do than you probably think possible. Plus, your budgets will be achievable which is something a lot of your peers will want to learn from you when this starts happening. Included are budget tools to help you streamline the process.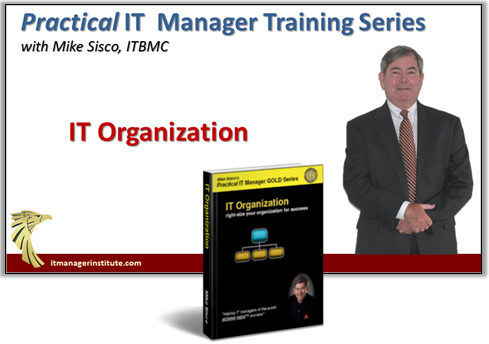 5.  IT Organization – Building an appropriate IT Organization to meet the needs and issues discovered in your IT Assessment work becomes important rather quickly. In this video, I'll give you a process and insights to help you build an effective team and to "right-size" your IT organization.
————————————
IT Manager ESSENTIALS-3 Bundle
IT Employee Focus

ESSENTIALS-3 contains training videos and resources to help you invest in your IT employees in order to build a highly responsive and effective IT support team. Your employees are the most important aspect that leads to IT success. Developing their skills, filling skill gaps and adding depth will help you succeed in your IT manager role.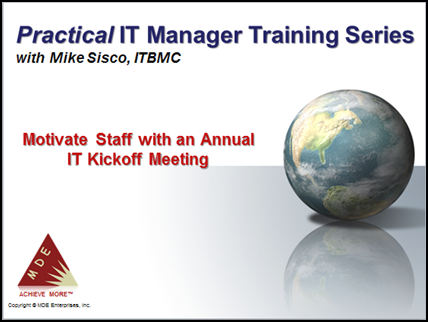 1.  Motivate Staff With an Annual IT Kickoff Meeting – Begin each year with a bang when you hold an Annual IT Kickoff Meeting. These events will not only be remembered, , , they will boost the morale of your staff and motivate them to achieve great things when you do it right. Included in this video is a step by step process to help you deliver a great Kickoff Meeting that gets positive results.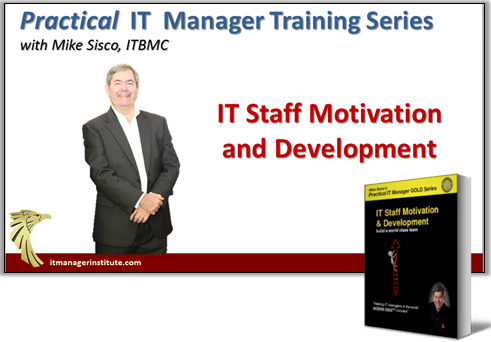 2.  IT Staff Motivation and Development – Build a highly effective support team by motivating and developing your IT staff. Included in this video are motivational tips and techniques I've used and know to be very effective. Also included is a BONUS e-Book that reinforces the video and provides additional insight into motivating and developing IT employees.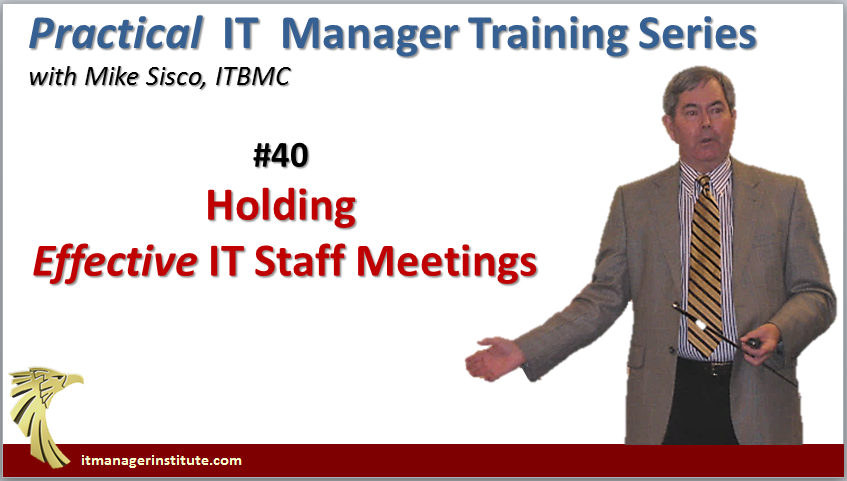 3.  Holding Effective IT Staff Meetings – IT staff meetings can be valuable tools in coaching, motivating, and developing your employees. This time is valuable and something you want to take advantage of to build the best team you can. I'll give you a process and insight to make this a real winner for you.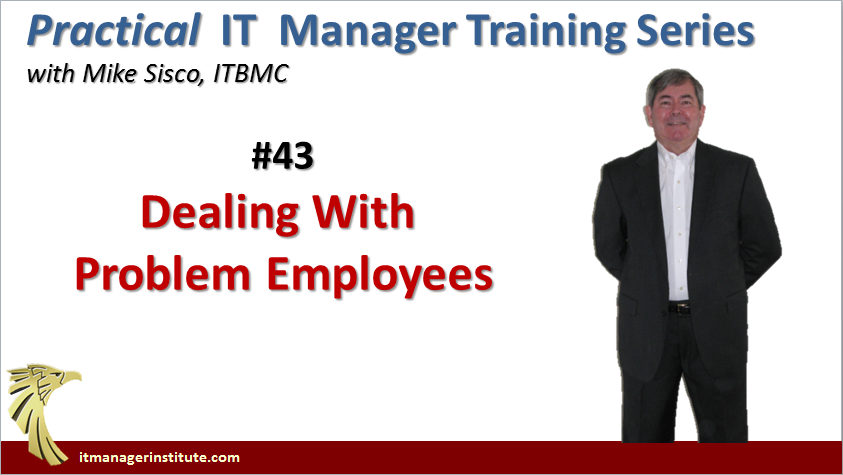 4.  Dealing With Problem Employees – One of the things you must do to support your team is to step up and deal with problem employees. Manage employees for any length of time and you're going to have one or two. Failure to address these issues will cause you to lose credibility so learn how to handle this effectively so it is a win-win for all.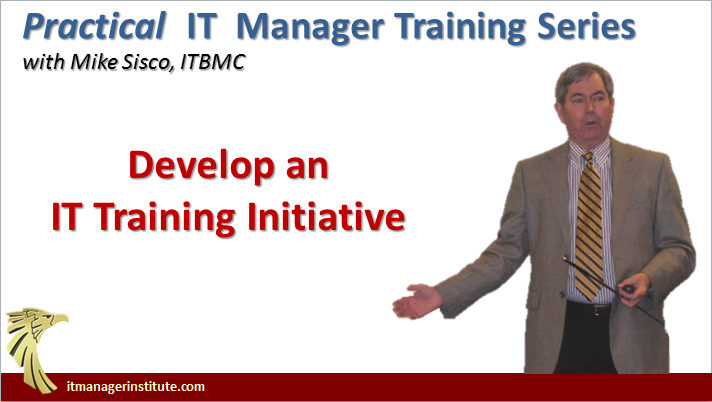 5.  Develop an IT Training Initiative – Training and education is a powerful motivator for IT employees. In fact, it is one of the highest motivators for why they stay with you. Every employee should have a specific training focus every year. This video will give you a simple process to focus your efforts in this area to build a stronger and more responsive It support team.
BONUS – Create a Training Development Studio In 1 Week and <$1,000 – Developing reusable training in your IT Organization and within your company pays big dividends for all types of situations like on-boarding, certification development, etc. I'll show you how to build a very effective training studio quickly and with very little expense.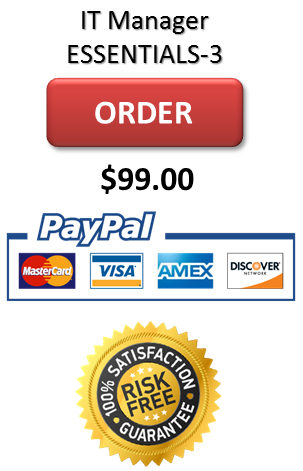 —————————-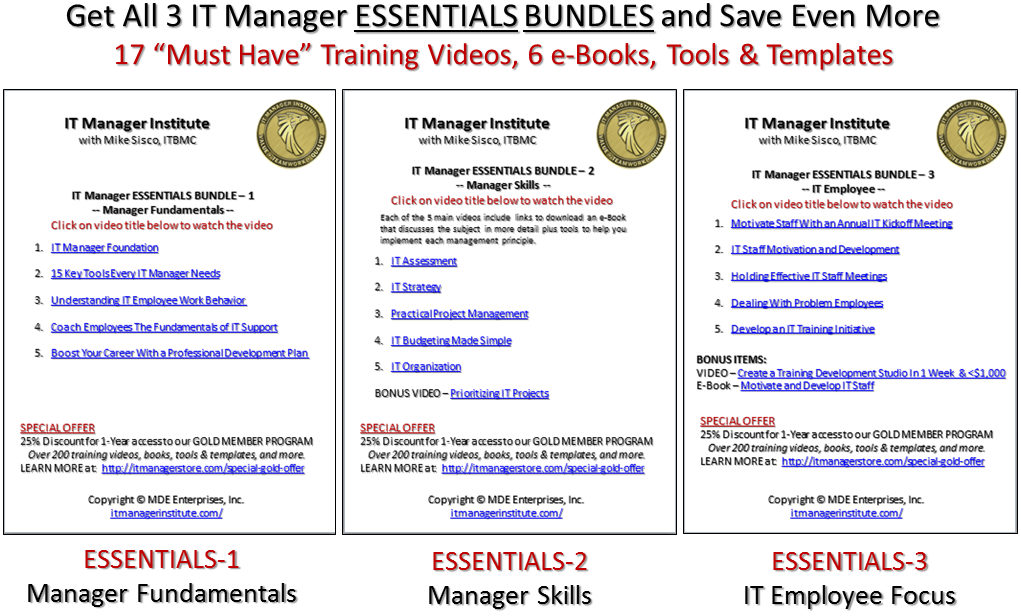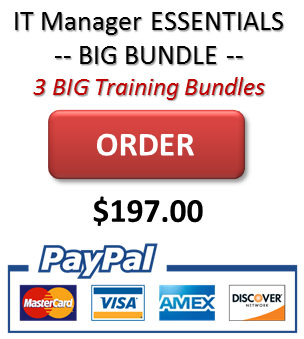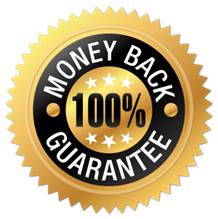 QUESTIONS or NEED MORE INFORMATION?
CONTACT US at  info@mde.net